Here at Luxseeker.com we have been watching with some fascination the latest campaigns from the luxury handbag big guns.  Beautiful designs, hottest celebrities and famous photographers certainly inspire to own the amazing highlighted brands. We've cast back to 2015 to see which bag brand campaigns were dazzling.
#1: Rihanna – Christian Dior Handbag Secret Gardens 2015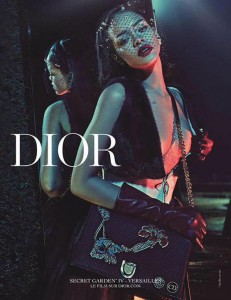 The campaign has been shot by Steven Klein in Versailles, France for Christian Dior.  Surprisingly this is the first time an ethnic beauty has fronted a Dior campaign and they seem to have made up for it with stunning imagery and videos of their products and of course Rihanna.
According to director Steven Klein,  "Rihanna's mystery and intrigue combined with her razor sharp looks and sensibility, are the essential, perfect elements to create the stage for Secret Garden."
Enjoy the latest Christian Dior Handbag Deals at Luxseeker.com
#2: Michelle Williams – Louis Vuitton Capucine Bag Campaign 2015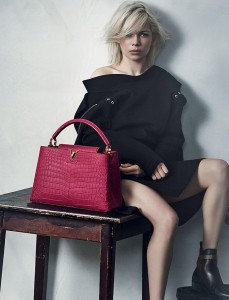 Shot by Peter Lindergh, the beautiful Michelle Williams looks pure class in the new Louis Vuitton campaign. Michelle has a long connection with the French fashion house and the new limited-edition of Louis Vuitton's Capucine luxury leather bag, which comes in blue-black, and cherry red 'rubis' shade for the new season is simply  desirable.
View the latest Louis Vuitton Handbag Deals at Luxseeker.com
#3. Kristen Stewart – Coco Chanel Handbag 2015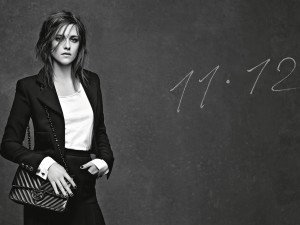 Karl Lagerfeld, the 81-year-old creative director of Chanel, really pulled this spring campaign out of the bag with not one but three sophisticated stars in Kristen Stewart, Vanessa Paradis and Alice Dellal to show off Chanel's latest handbags.
Kristen Stewart, steals the show for us with the 11.12, an update on Chanel's classic 2.55 flap bag, with the latest reworke seeing the traditional diamond quliting replaced with a chevron pattern.
"For me the iconic handbag is just like the House of Chanel, fundamental and modern, two qualities not usually shared," says Twilight actress Kristen Stewart.
See the latest Chanel Handbag Deals at Luxseeker.com
#4:  Gemma Ward – Prada Spring 2015 Handbag Campaign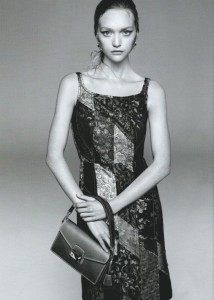 The campaign stars models Ine Neefs, Gemma Ward and Julia Nobis photographed by Steven Meisel.
The 27-year-old Australian model steels the show for the Italian fashion house powerhouse. Gemma Ward has a strong connection and affection with Prada. Gemma took a six year hiatus from modelling and returned last year for Prada at the Milan Fashion Show.
View the latest Designer Handbag Special Prices at Luxseeker.com
#5: Helena Severin – Saint Laurent Handbag 2015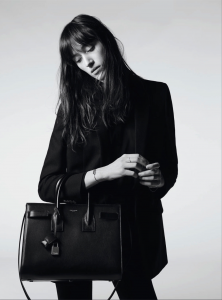 Classic French photography style and Austrian model Helena Severin deliver in this Hedi Slimane shoot.
With her favourite movie being Kill Bill, and a music fan of Depeche Mode, we just think Helena and Hedi deliver this campaign with YSL simplicity and class.
Enjoy the latest Designer Handbags Deals at Luxseeker.com
We'll be adding to this story as campaigns come in. If you think we've missed a Handbag campaign that has got you fluttering drop us a line or comment below.