Today Luxury Boots come in many styles, forms, types, colours and materials providing the ultimate style look from the catwalk, the street, the workplace to the entertainment world and the arts.

Boots have developed from the earliest forms of footwear-a two-piece unit covering the foot and lower leg. This wrapping of the leg formed the building block on which all modern forms of the luxury boot have derived. Our luxury boot buyers guide describes the types of boots you can enjoy with some background, style tips and most importantly the latest relevant luxury boot deals on LuxSeeker.com.
Ankle Boots
Ankle Boots are the most widely worn style of fashion boots matching easily with trousers, skirts and shorts and worn both by men and women. Ankle boots are the staple of all the luxury fashion houses and designers. Designs vary from boots that skim the ankle to boots that cover the lower part of the calf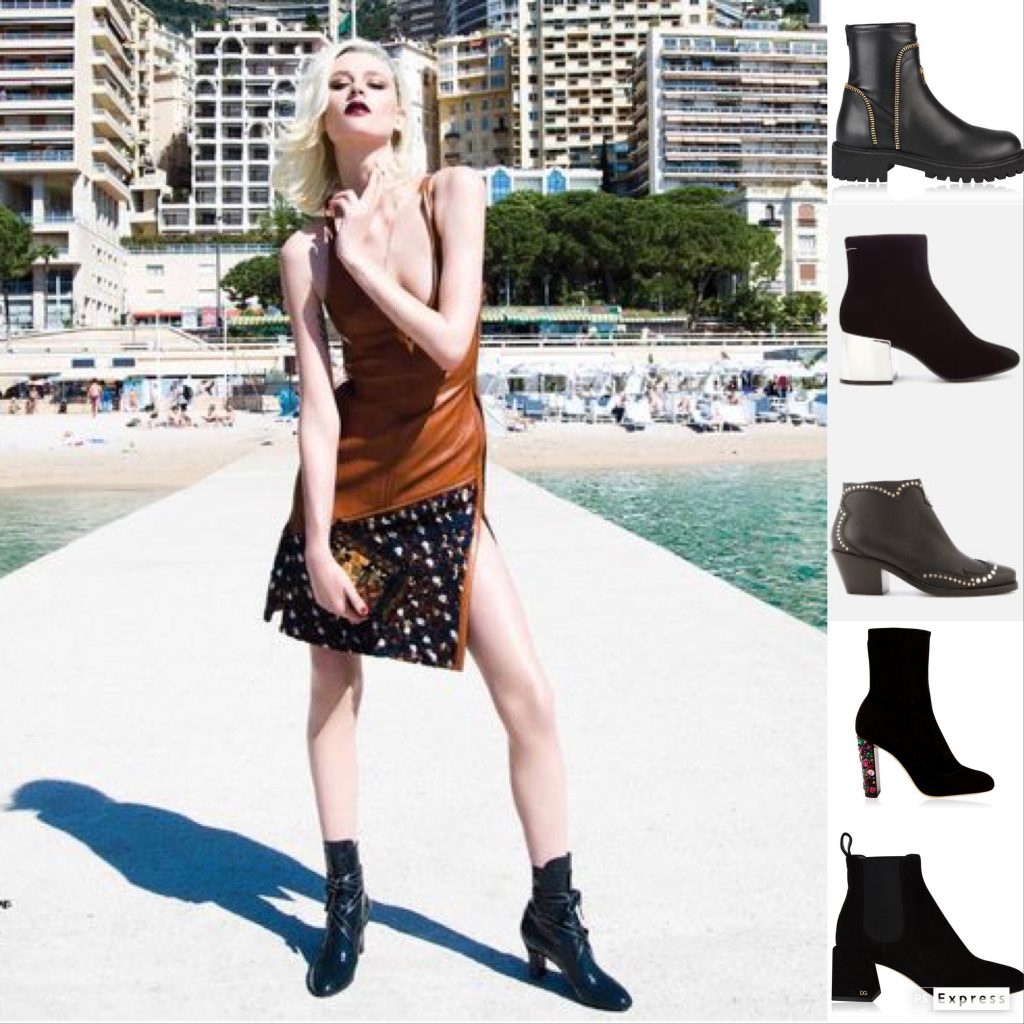 Shop the latest Luxury Ankle Boot Deals
View the Luxury Ankle Boot Guide
Biker Boots
Biker Boots, strong and sturdy for their practical raison d'etre, have a fabulous sheen of counter culture and rebellion inspired by the classic Brando and Dean films The Wild One and Rebel Without a Cause.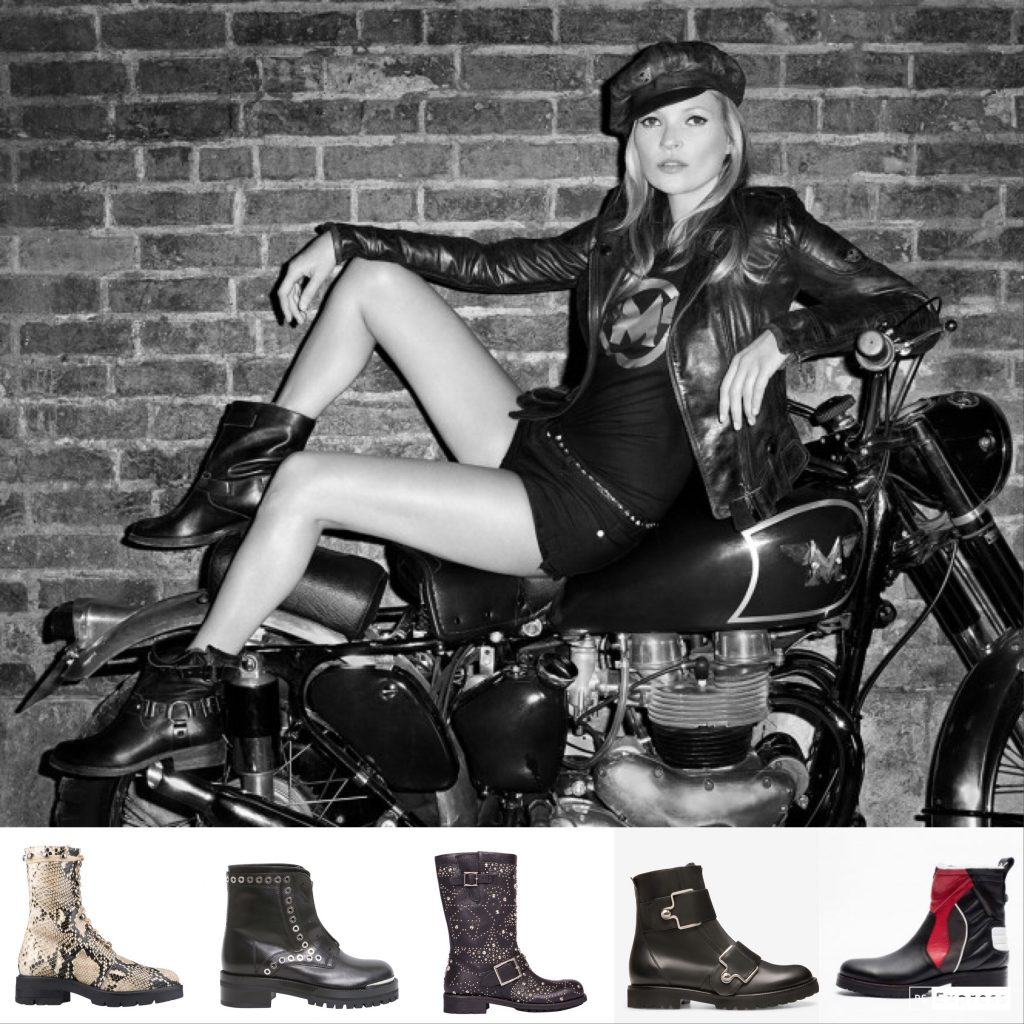 Shop the latest Luxury Biker Boot Deals
View the Luxury Biker Boot Guide
Chelsea Boots
One of the most famous boots, Chelsea Boot are close fitting ankle-high boots with an elastic side panel often having a loop or tab of fabric on the back of the boot enabling the boot to easily pulled on. Originating from the Victorian era the boots became a staple of the British Mode scene.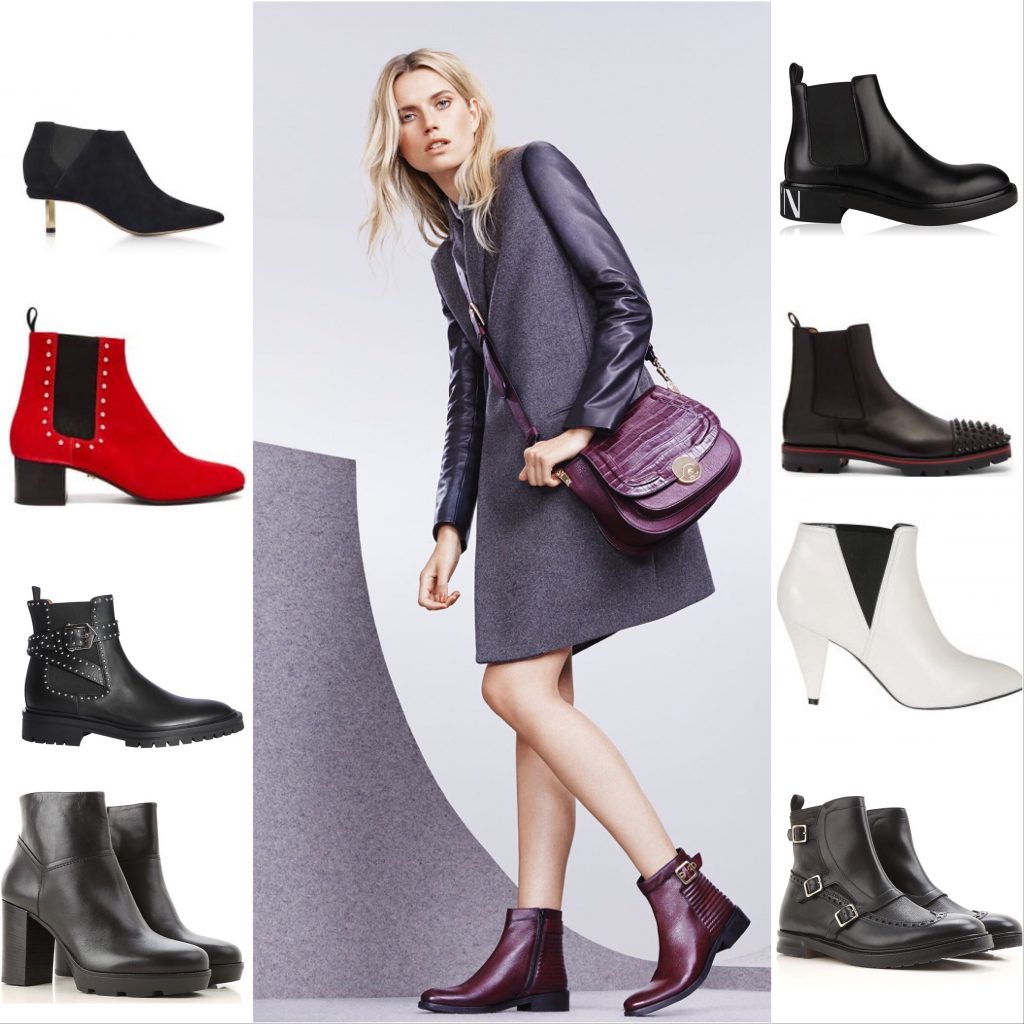 Shop the latest Luxury Chelsea Boot Deals
Combat Boots
Combat Boots' military history delivers grip, ankle stability and foot protection suitable for a rugged or wet environment. No surprises that they are popular as fashion clothing particularly in the goth, punk, grunge, metal, industrial and skinhead, subcultures, Combat boots often have a long lifespan giving them a vintage lifespan for your wardrobe to!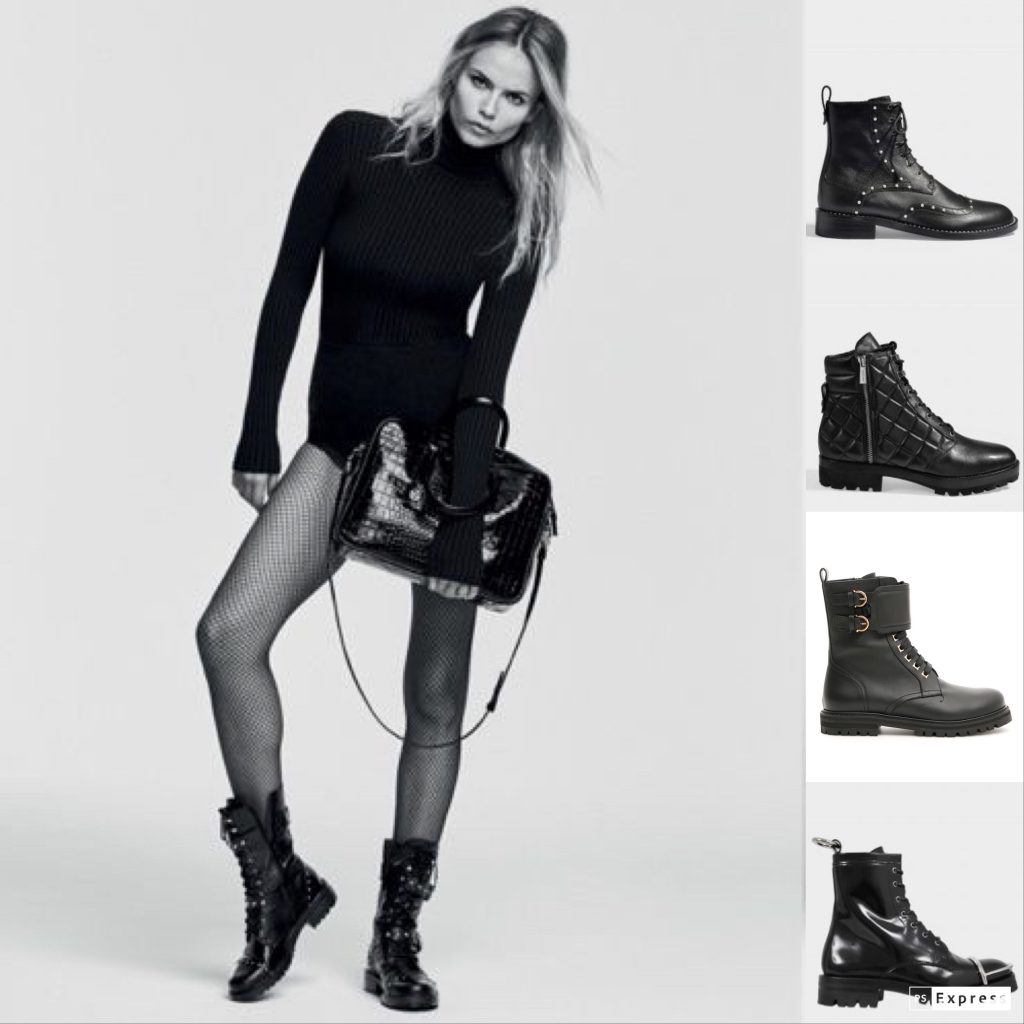 Shop the latest Luxury Combat Boot Deals
View the Luxury Combat Boot Guide
Cowboy Boots
Cowboy boots have a cuban heel, rounded to pointed toe, high shaft, and, traditionally, no lacing. Cowboy boots are normally made from cowhide leather but are also sometimes made from "exotic" animal skins. Less about the wild west today cowboy boots are a strong fashion statement loved by entertainers and dancers alike.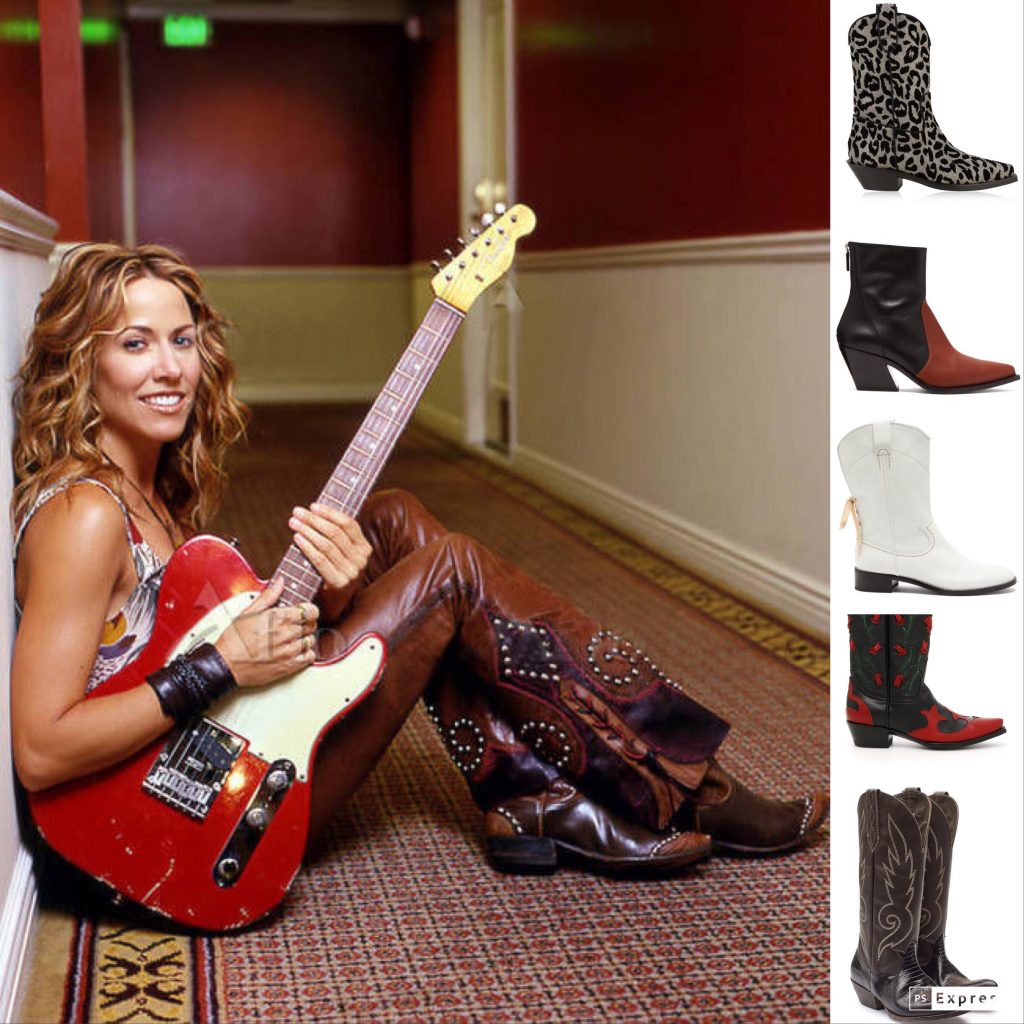 Shop the latest Luxury Cowboy Boot Deals
View the Luxury Cowboy Boot Guide
High Heel Boots
High Heel Boots first came to prominence in the sixteenth century by Persian cavalry – they have come a long way. A staple of your shoe cupboard delivering height and confidence for every boot style.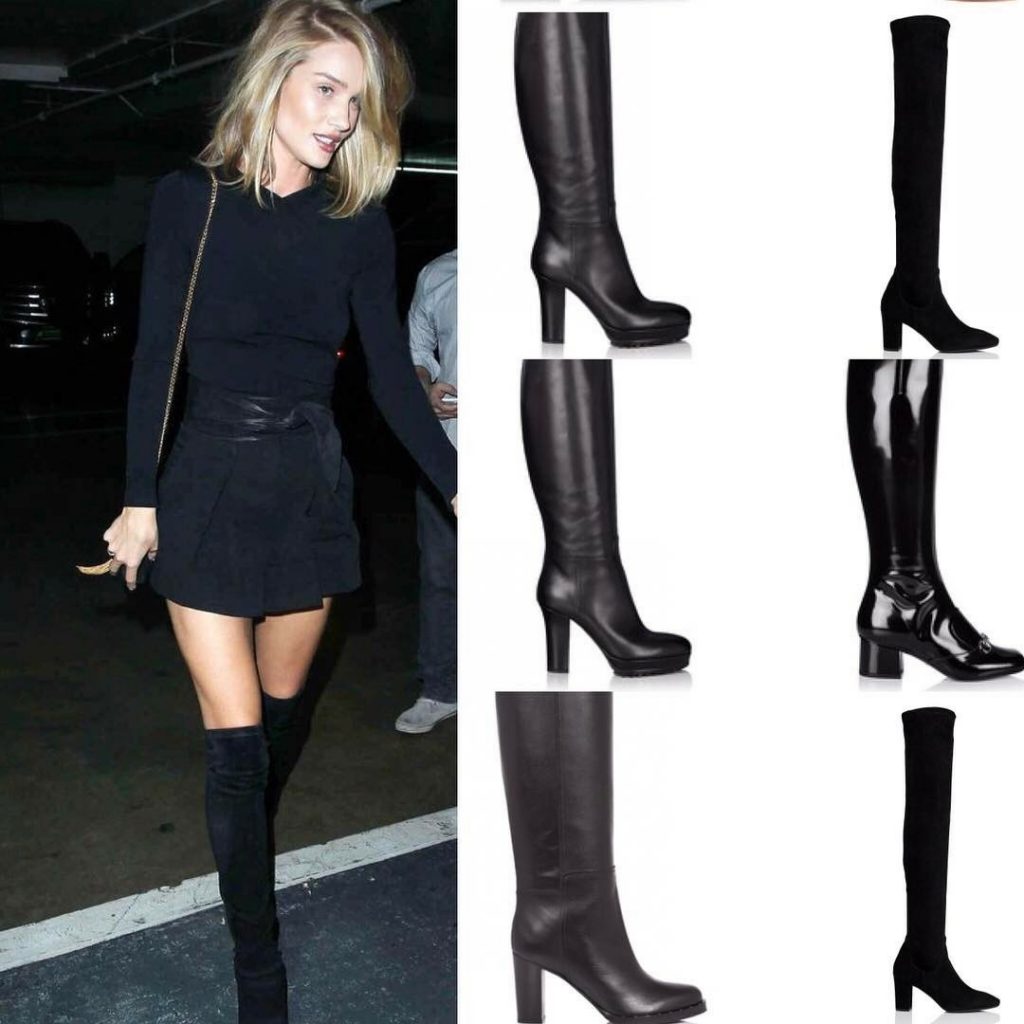 Shop the latest Luxury High Heel Boot Deals
Hiking Boots
Hiking Boots are designed for protecting the feet and ankles during outdoor walking activities for long distances without injury. Hiking boots are constructed to provide comfort and ankle support for walking considerable distance over rough terrain.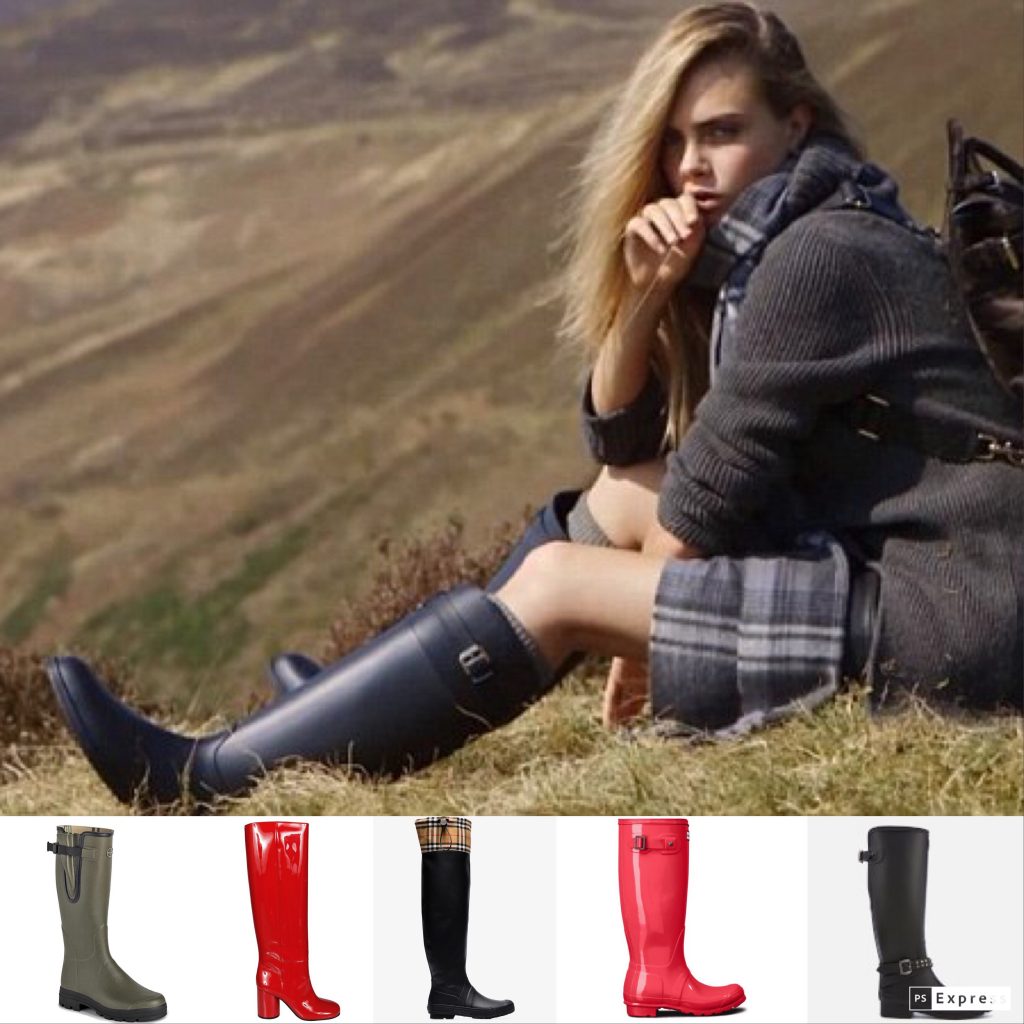 Shop the latest Luxury Hiking Boot Deals
Knee High Boots
Knee High Boots come in a wide variety of colors and materials (e.g. leather, suede, fabric) and can be worn with skirts or dresses of any length, under or over pants, or with leggings. A boot that hits the leg just below the knee is regarded as particularly stylish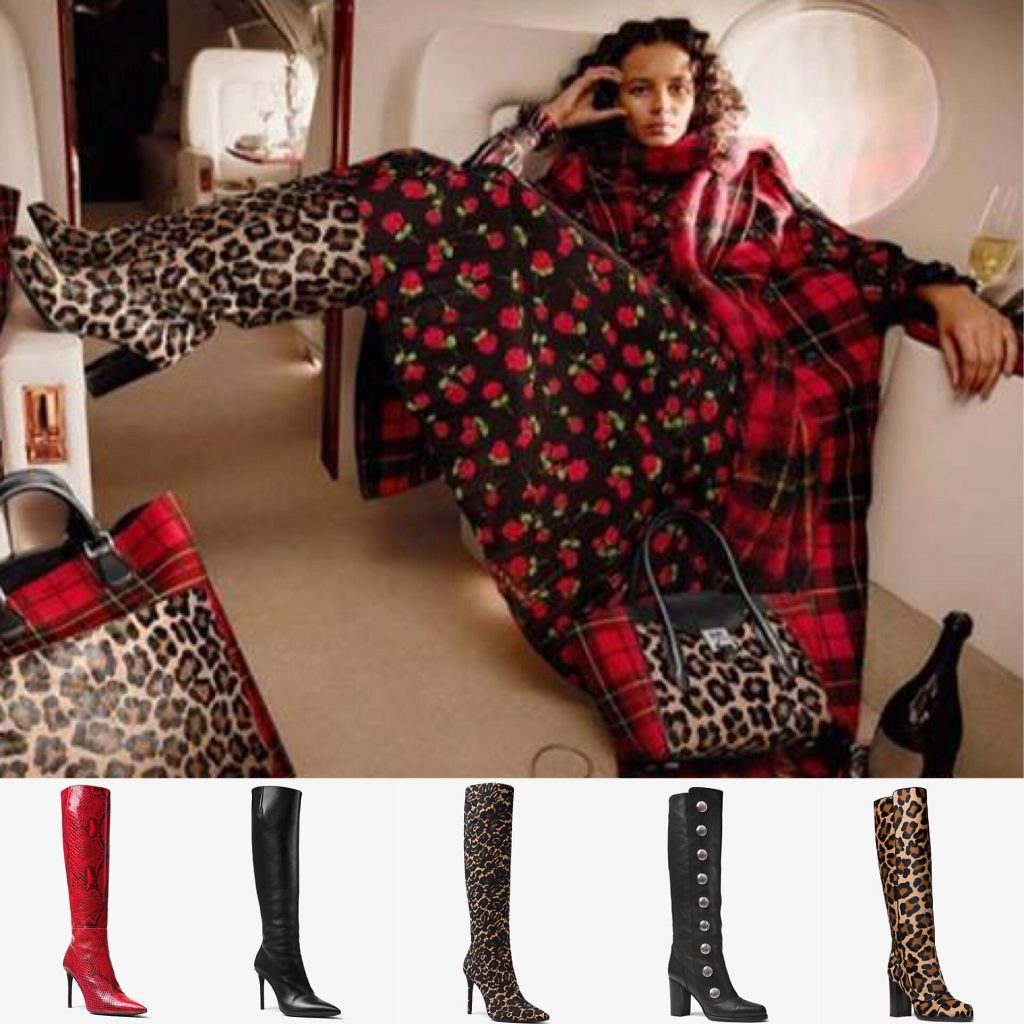 Shop the latest Luxury Knee High Boot Deals
Mid Calf Boots
Mid Calf Boots hit the curve of the leg at the widest point of the calf. Regarded by stylists as particularly challenging to wear, calf-length boots are usually worn under pants or with long skirts that cover the top of the boot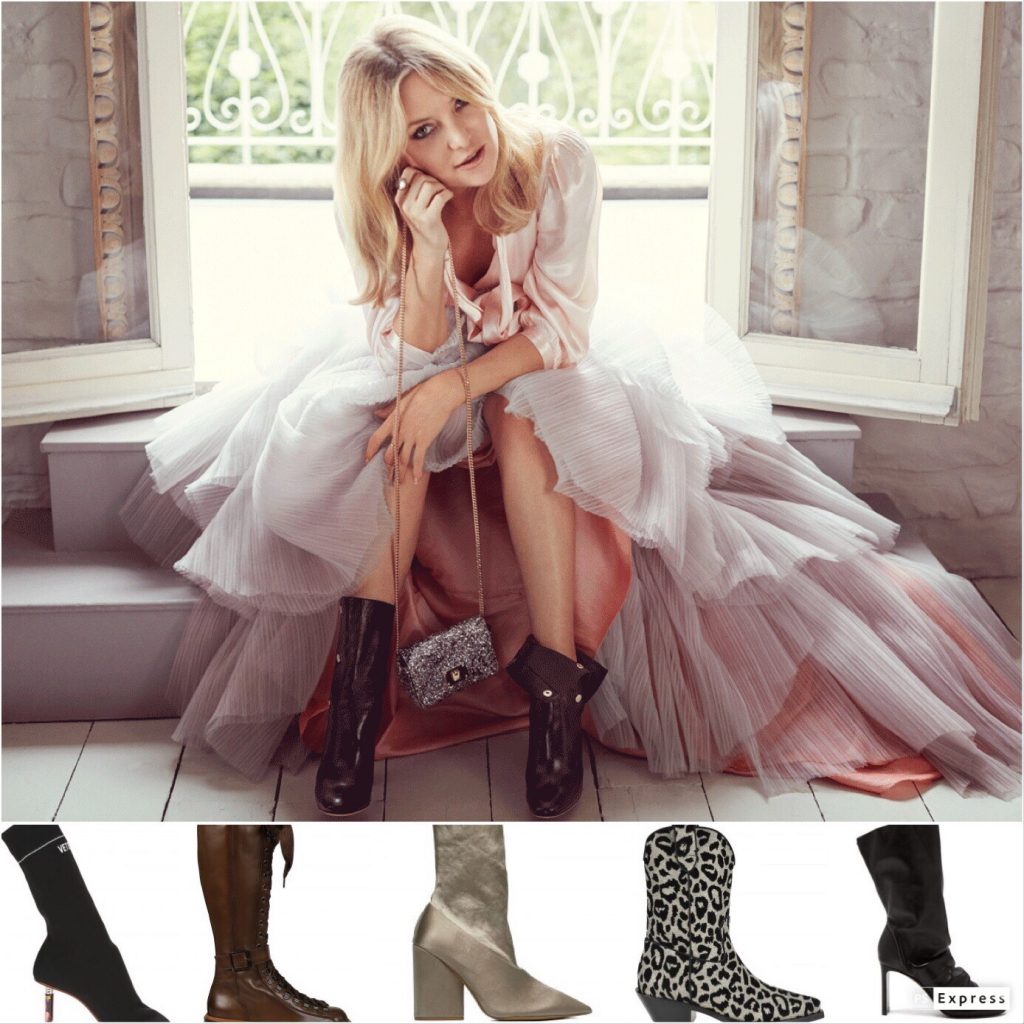 Shop the latest Luxury Mid Calf Boot Deals
Mid Heel Boots
Mid Heel Boots are highly versatile and stylish, boots that can be
worn from dusk till dawn with ease giving just an extra inch or two of extra height.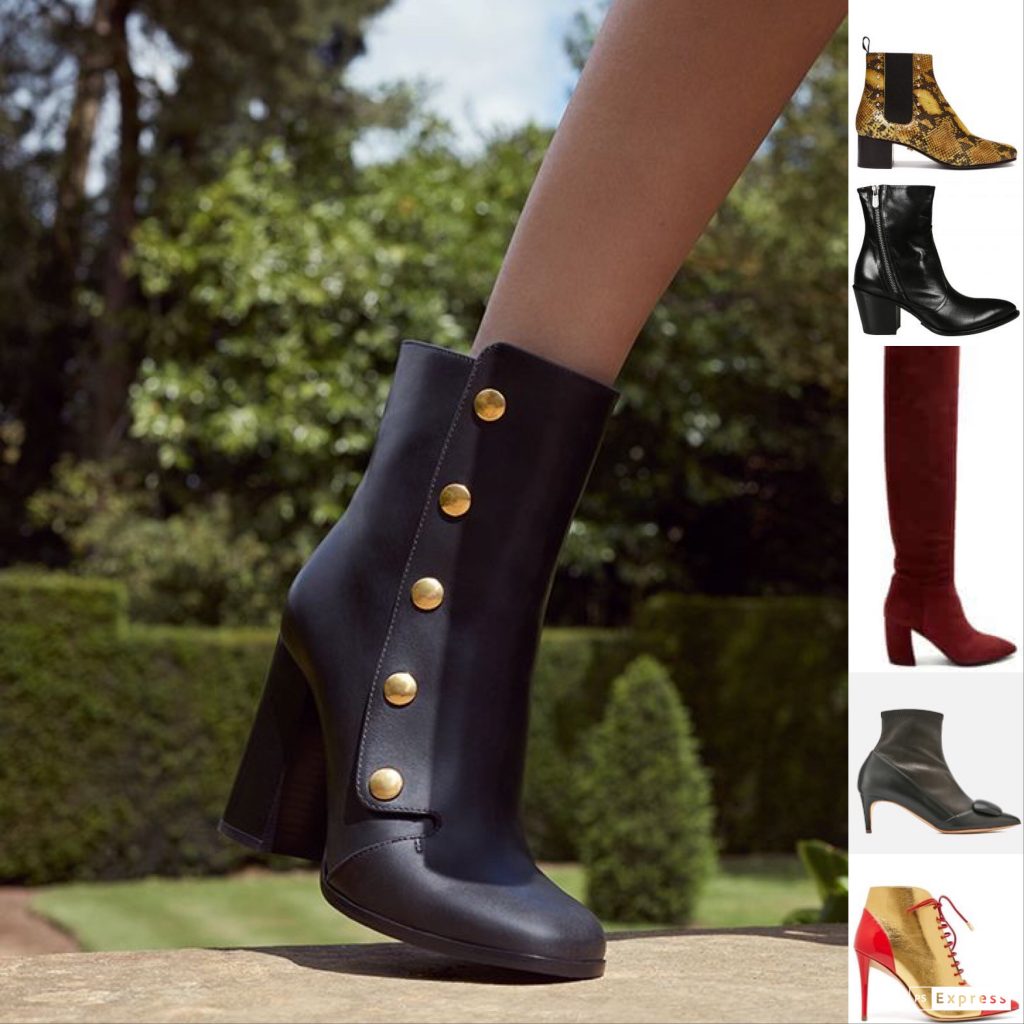 Shop the latest Luxury Mid Heel Boot Deals
Over the Knee Boots
Over the Knee Boots, also known as thighboots or cuissardes, these boots were originally worn by men in the 16th – 18th Centuries to protect the legs while riding before being adapted as a fashion item for women in the 1960s. Often considered provocative and certainly striking.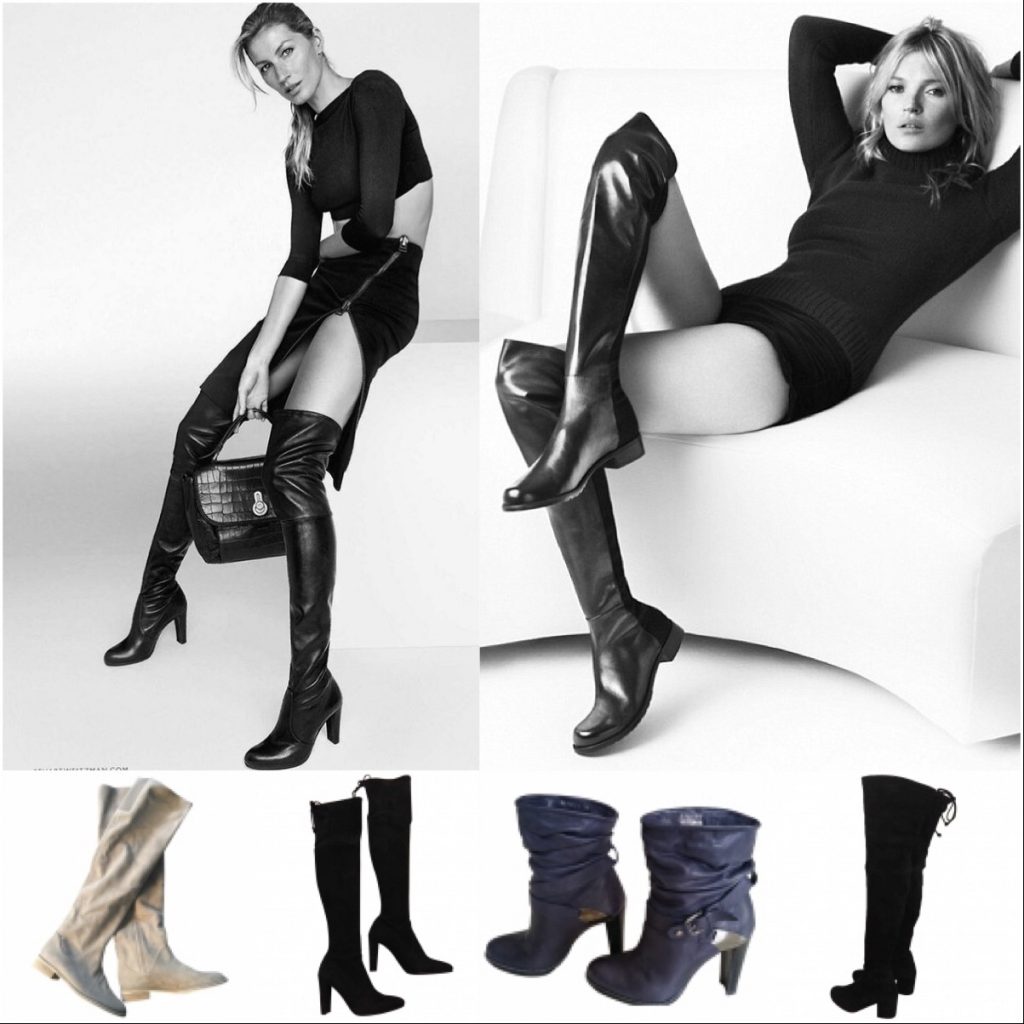 Shop the latest Luxury Over the Knee Boot Deals
Platform Boots
Platform boots originated in medieval Venice designed to avoid wet feet when the pavements were flooded! By the 1970s platform boots and shoes became the mainstay of glam rock with David Bowie and Marc Bolan in the vanguard, through to the disco scene with glitter and lights bringing great individuality. Platform boots were brought to the forefront of female fashion by Vivienne Westwood and the girl band, the Spice Girls, in the 1990s and more recently by YSL.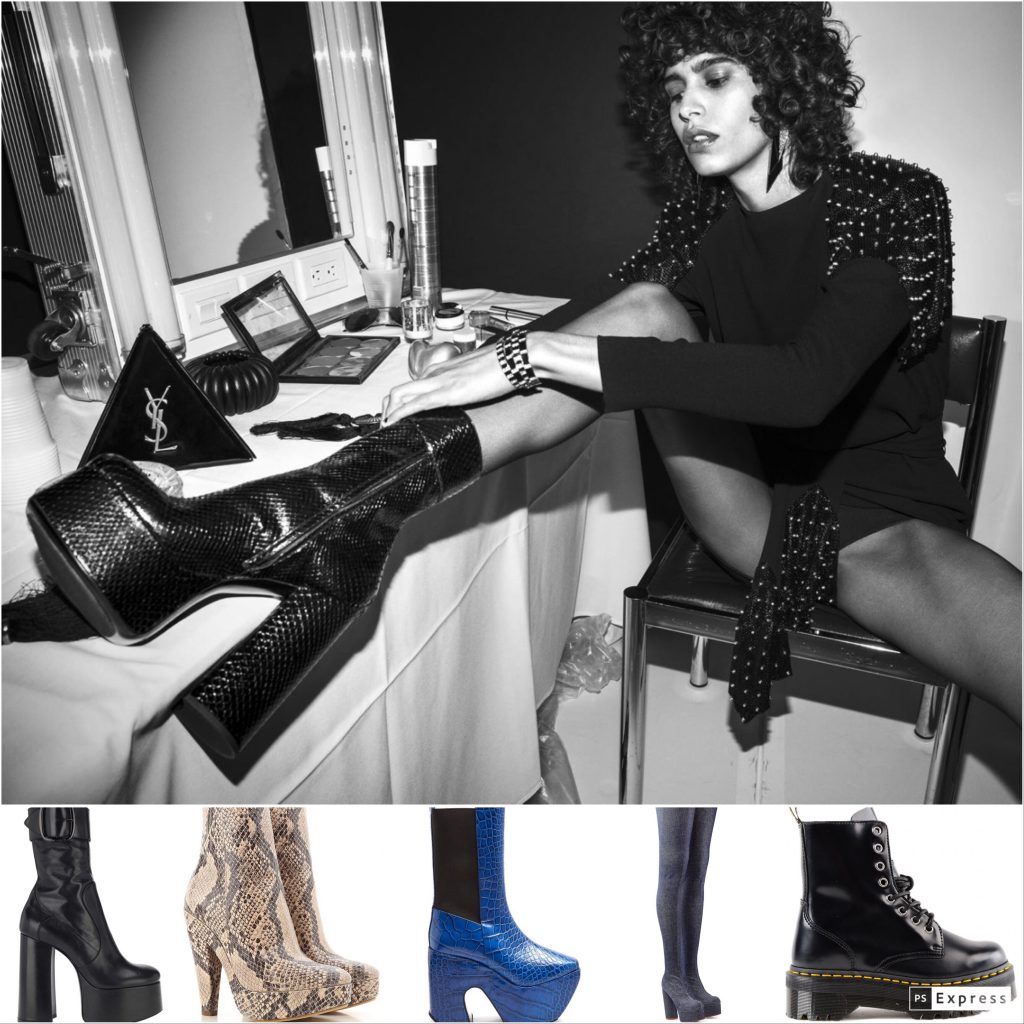 Shop the latest Luxury Platform Boot Deals
Rain Boots
Rain boots are exactly that, high fashion boots that are highly practical for wet conditions. A firm favourite on the festival fields of Britain and across the globe.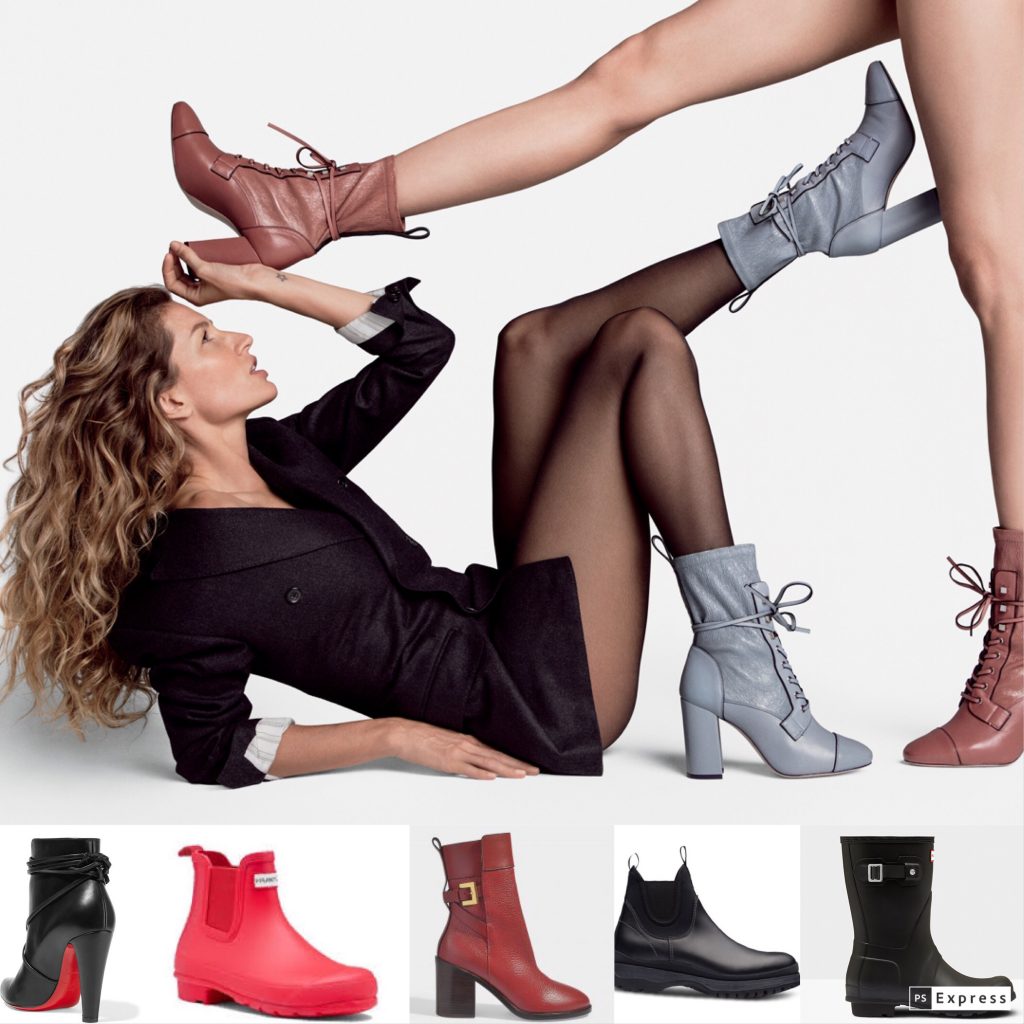 Shop the latest Luxury Rain Boot Deals
Sock Boots
Sock boots have emerged and ridden the Instagram generation and show no sign off stopping. Light as air on the foot, and easy to stash in a handbag. An early example was showcased by Falke in 2008 in Paris, with Balenciaga, Dior and Celine now trailblazing the style.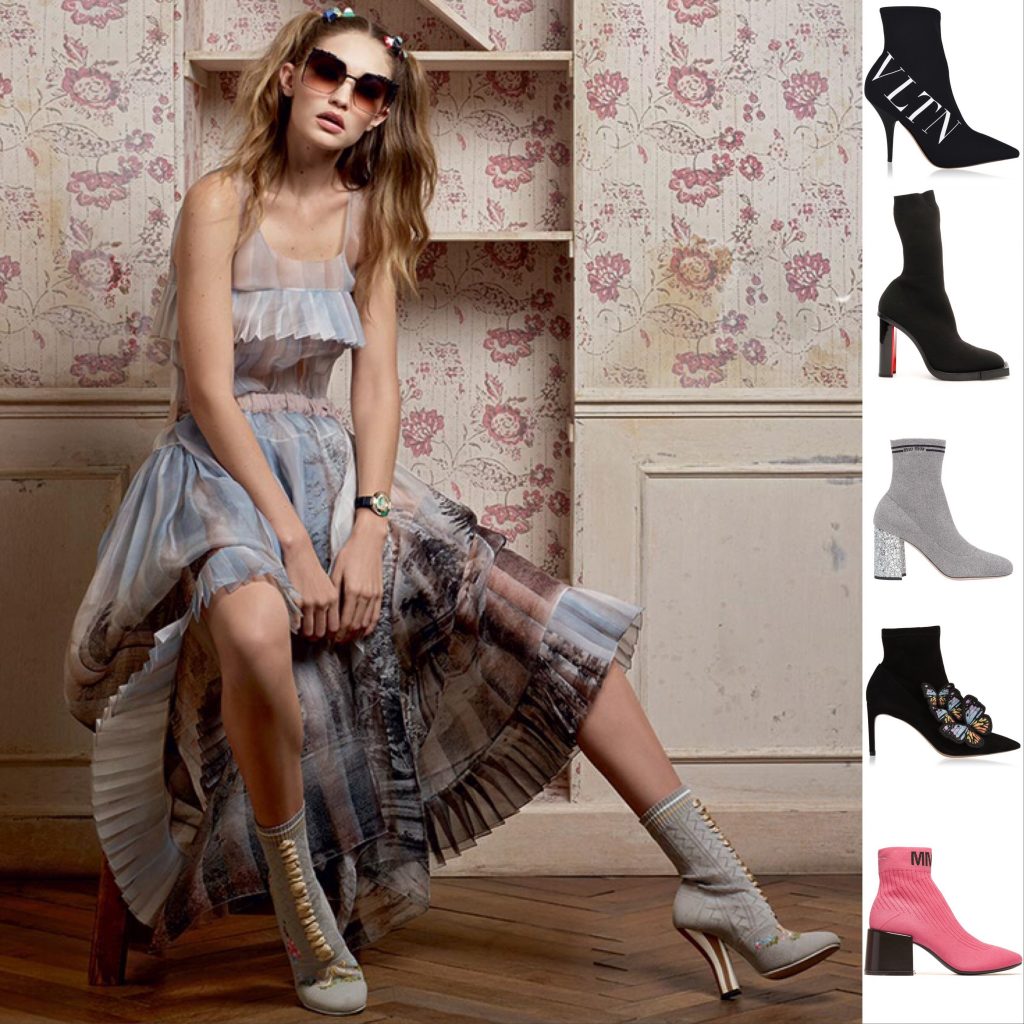 Shop the latest Luxury Sock Boot Deals
Snow Boots
Snow boots are highly practical for snowy slushy conditions. Waterproof, heavily insulated, less breathable and easy to clean means snow boots are heavier than other boot styles. Given these practical design constraints, there are some fabulous creations from your favourite designers.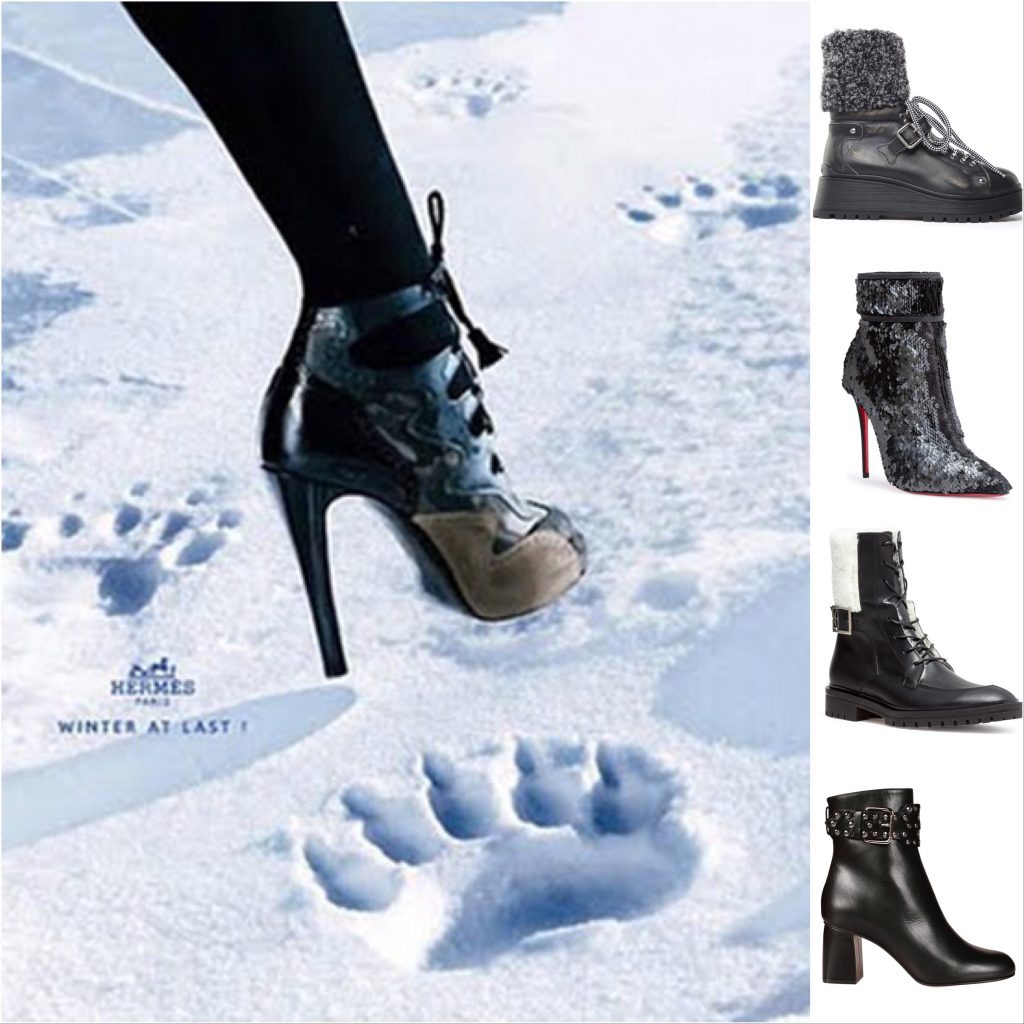 Shop the latest Luxury Snow Boot Deals
Thigh High Boots
With Thigh High Boots extending to at least mid-thigh they will always draw attention as illustrated by iconic music artist Siouxsie Sioux and Julia Robert in Pretty Woman. Thigh boots are made of materials ranging from leathers, synthetic materials such as polyurethane or latex and fabrics such as silk or polyester. THB can come with zippers or designed as pull-on boots. Heel heights vary from flat to high with styles from metal spikes, chunky and platform soles.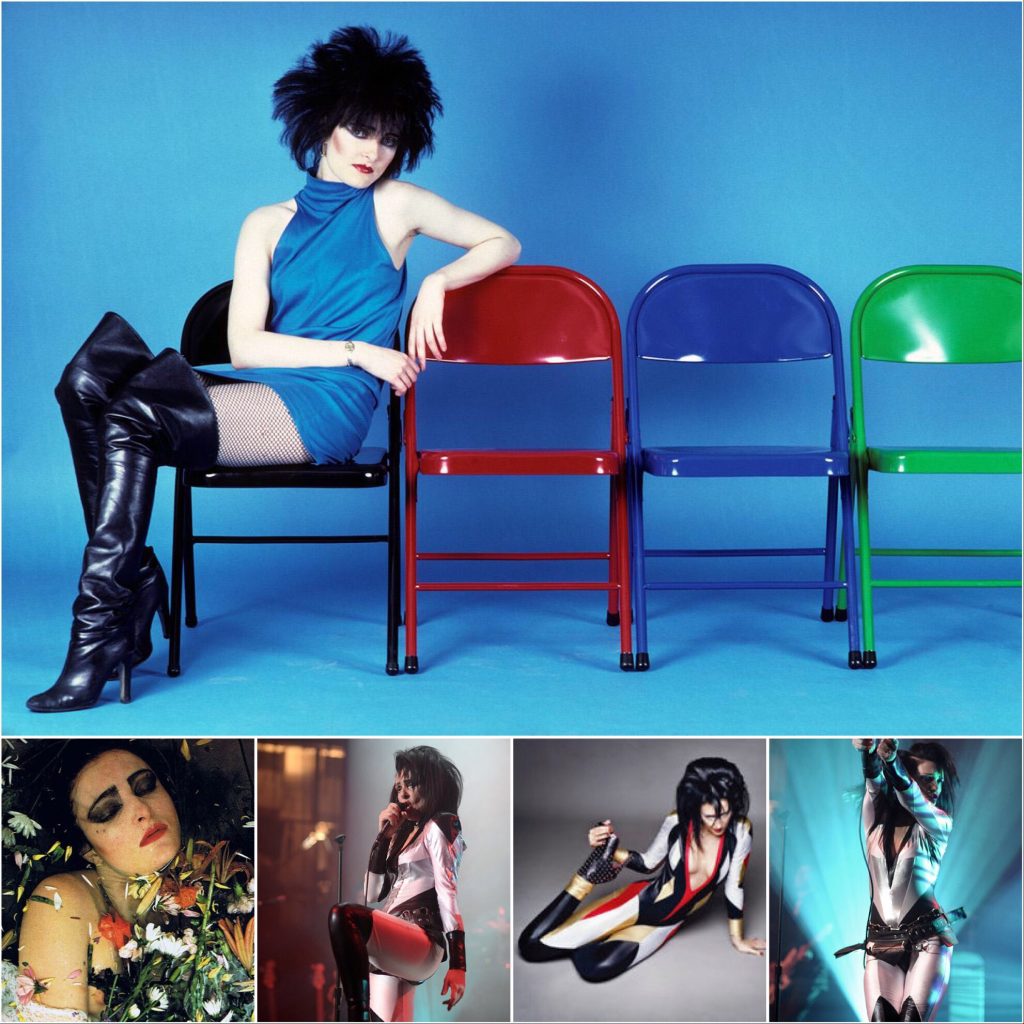 Shop the latest Luxury Thigh High Boot Deals
Wellington Boots
Wellington Boots were worn and popularised by Arthur Wellesley, the Duke of Wellington. The "Wellington" boot became a staple of practical foot wear for the British aristocracy and middle class in the early 19th century. Originally made of leather, today the 'Wellie' is a practical waterproof boot made of rubber. The green 'coutry life' Wellington boot was introduced by Hunter Boots, who's high design range now includes most colours.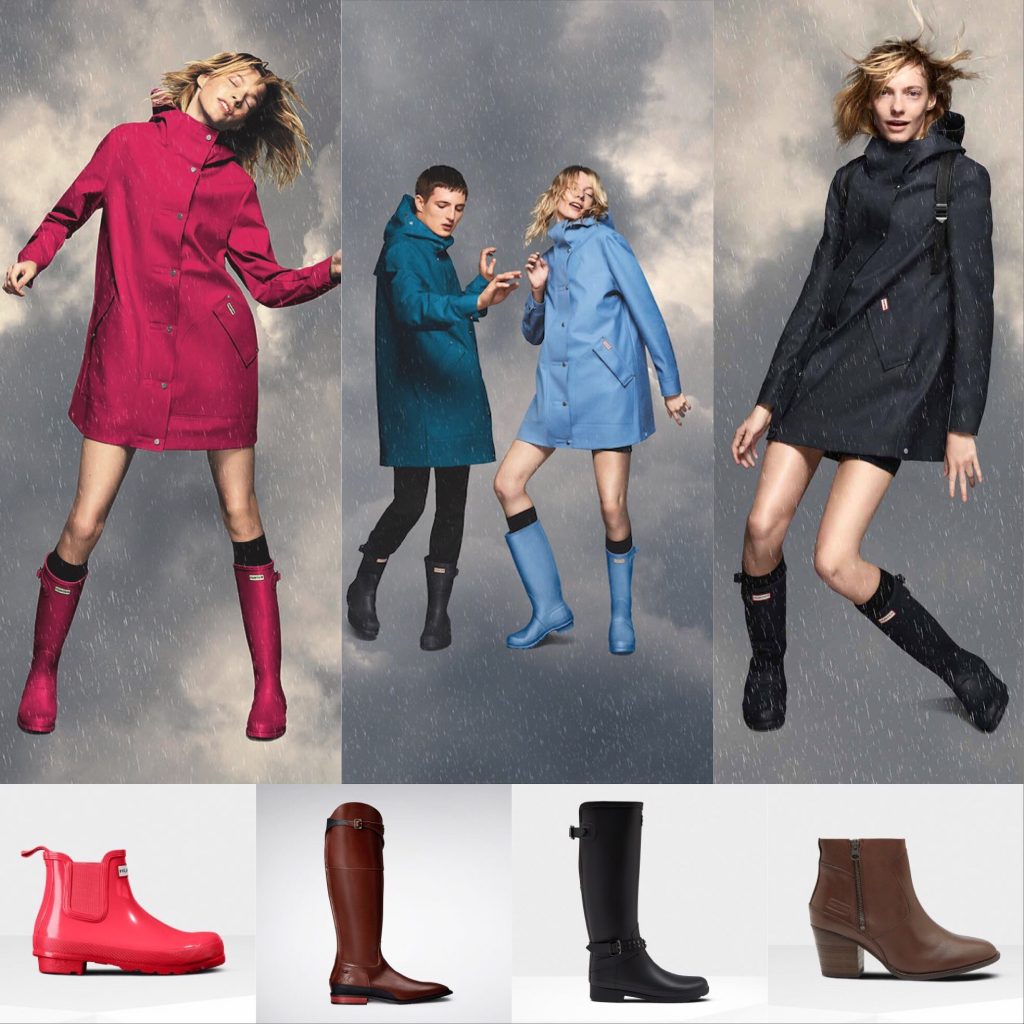 Shop the latest Luxury Wellington Boot Deals
Materials
Boots can be made from leather, rubber, fur, skins such as python, cloths such as silk and man-made materials such as plastics or latex. The sheer range enables boots to be styled and to be used in so many different ways. Hence our fascination and the ability of designers to keep bringing new and classic concepts to market.
Luxury Boot Colours
Whilst every colour and shade is catered for the classic colours of black, white, pink, red, gold and silver dominate the designer boot market. Gold boots and silver boots particularly stand out with the investment in materials and design within the designer boot market.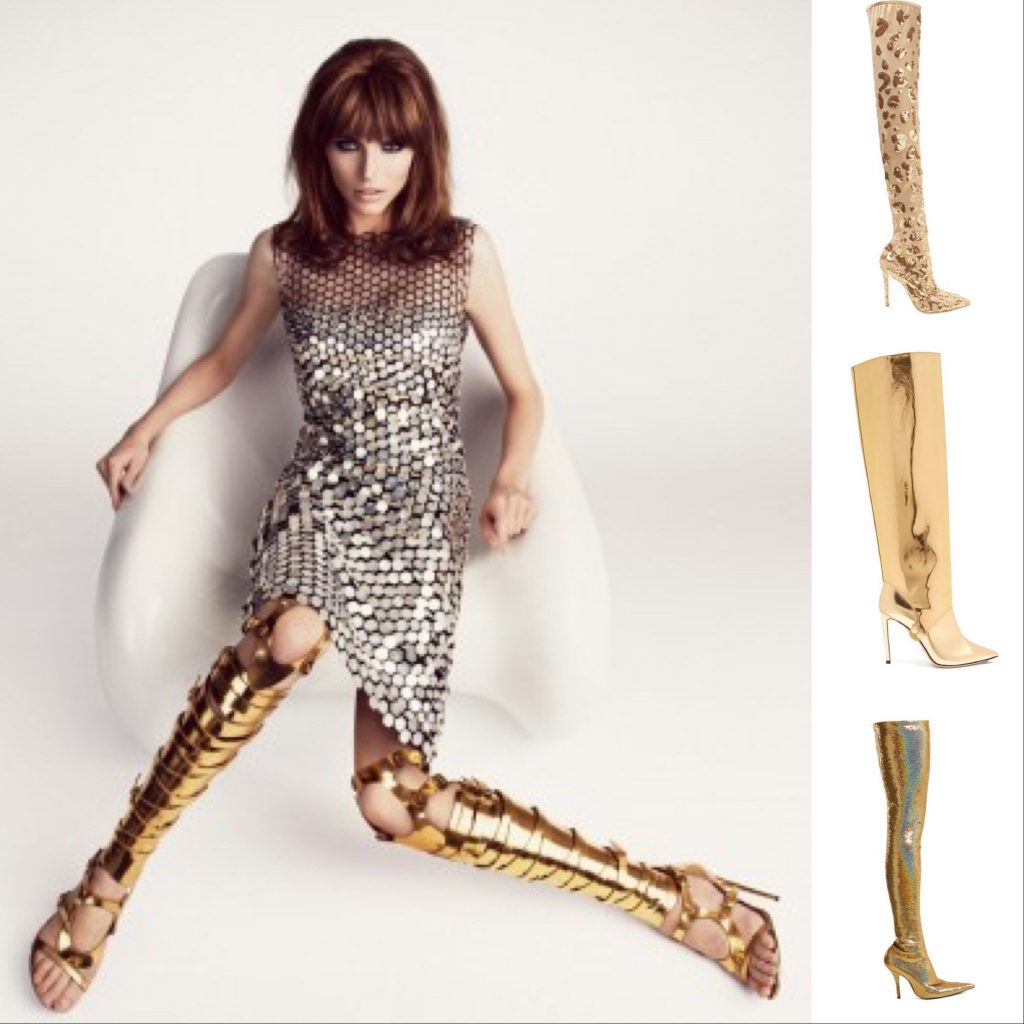 Boot Prices
Owning designer boots does not require a mortgage which great deals from fabulous brands readily available:
Best Cheap Luxury Boot Deals under £250
Best mid-priced Luxury Boot Deals £250 to £1,000
Best Expensive Luxury Boot Deals over £1,000

Luxury Boot Brands
With over a hundred major and independent designer boot brands listed on LuxSeeker.com, you'll find deals from all the leading boot designers such as Dolce & Gabbana, Saint Laurent, Prada, Gucci, Fendi, Givenchy, Versace, Dsquared2, Valentino and many more.
Boot Designer Countries
There are fabulous designers around the world but the fashion powers houses of France, Italy, Spain, the UK and the US dominate.

Shop the fabulous boots from British designers Stella McCartney, Alexander McQueen, Mulberry, Nicholas Kirkwood, Hunter, Churches, Sophia Webster and more.
Boot Trends
The beauty of fashion is always personal taste, however, reviewing the data insights from LuxSeeker.com we can see kitten boots, cowboy boots and sock boots rising in popularity.
Boots
Nancy Sinatra proclaimed in her iconic song, "These Boots Are Made for Walking." So true! Boots are not just for winter but can be worn in any season with any kind of outfit. The chameleon of boots delivering height, tone and personality to any outfit or any occasion.

Enjoy the latest luxury boot deals with LuxSeeker.com today.