Cowboy Boots
Cowboy boots have a Cuban heel, rounded to pointed toe, high shaft, and traditionally no lacing. Cowboy boots are normally made from cowhide leather but are also sometimes made from "exotic" animal skins. Less about the American wild west, today, cowboy boots are a strong fashion statement loved by entertainers and dancers alike. Cowboy boots have always been made to last with beautiful craftsmanship.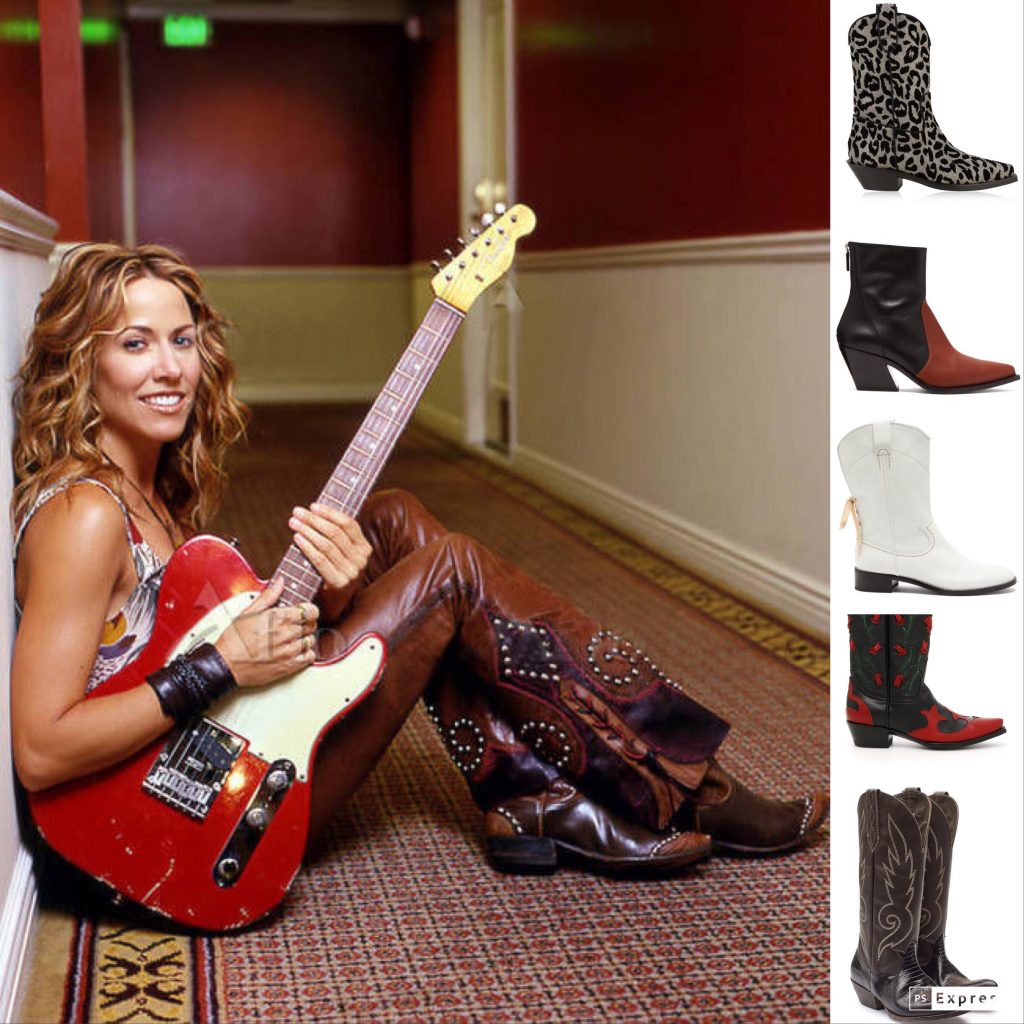 Cowboy boot designs vary from ankle-length, calf-length, knee-high to full thigh length. From various leathers and skins, from classic embroidery to full-on fierce designer creations for the more confident wearer. Fabulous to style with jeans in or out of the trouser and if you are feeling very confident then the iconic look with cut-off jeans, as illustrated by Pamela Anderson below. Skirt wise, the in-trend Bohemian look works perfectly with cowboy boots.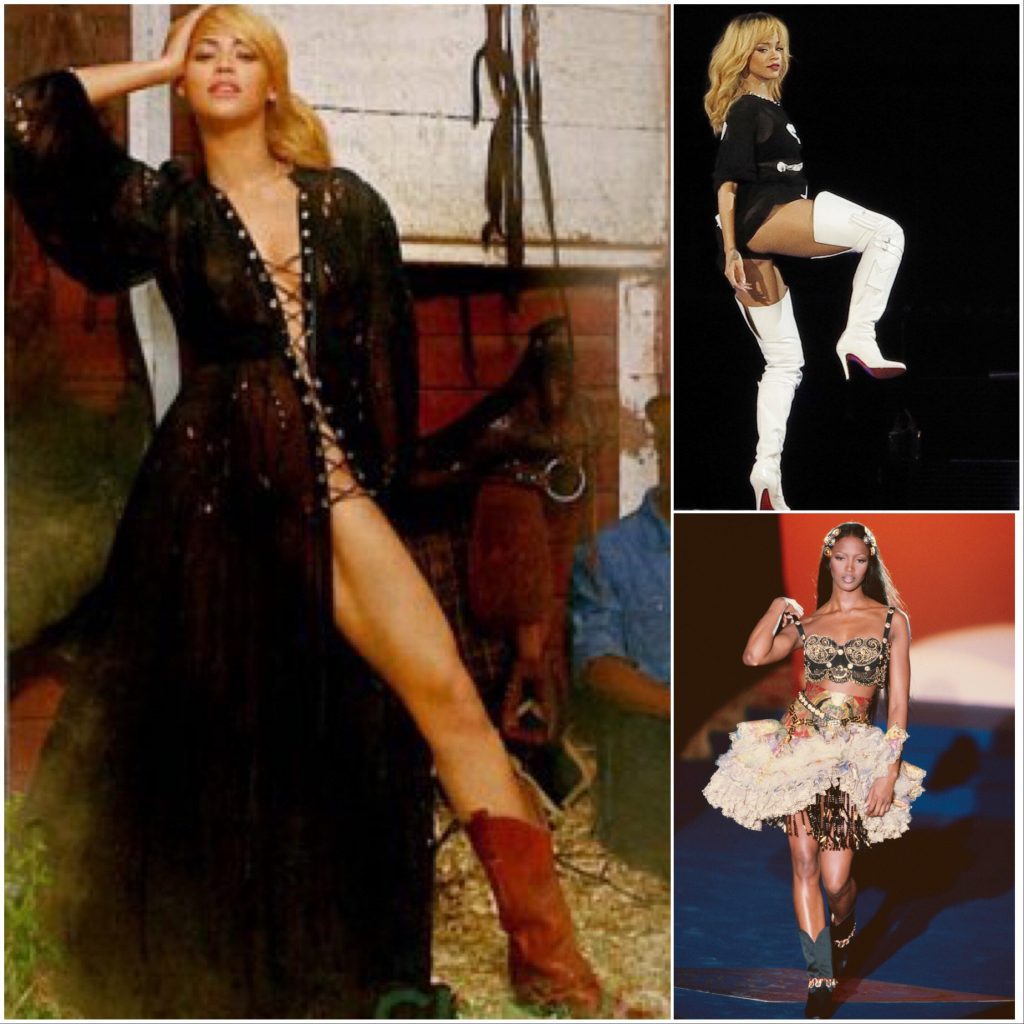 Cowboy Boots History
Cowboy boots are a variation on riding boots as the high shaft and a slight heel made horse riding easier protecting the leg from getting chaffed by the saddle, and allowing the rider ta better grip on the stirrups. Cowboy boot development began in Kansas in the late 19th century with cowboys wearing square or rounded Hessian boots, with a V-cut out at the front of the shaft and with a blocky Cuban heel. With the rise of Holywood westerns in the early 20th century, the cowboy boot entered American mythology with herds of moviegoers emulating their heroes and villains.
By the 1940s both work and dress cowboy boots had developed to fashion gaining various embroideries and embellishments such as cacti, eagles and horses. Cowboy boot popularity rose significantly with the popularity of country music in the 1950s and became core the fashion of various music scenes from country to rock, pop, heavy metal and even dance music.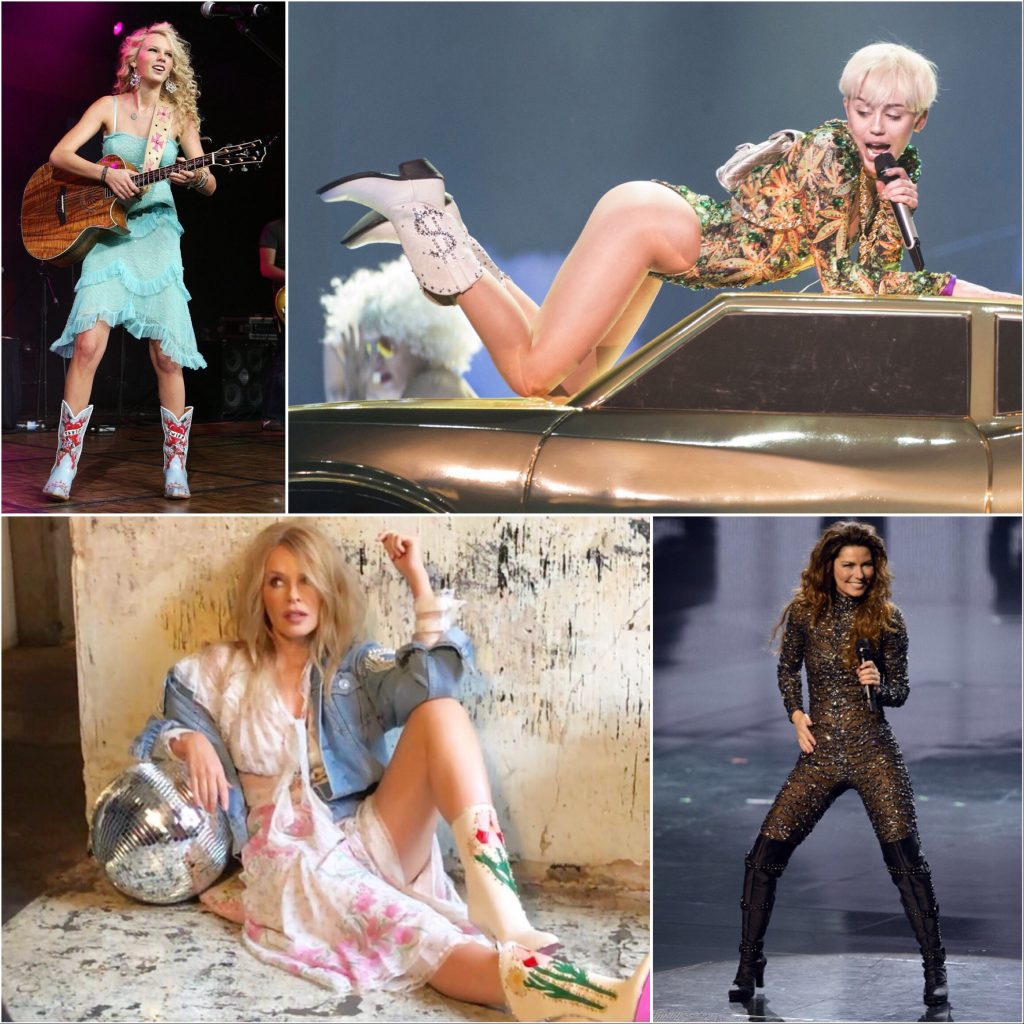 Cowboy boots kept changing over the following few decades, with design inspiration coming primarily from European military boot designs. In the 1960s, a more simplified boot came back into fashion, followed by a resurgence of everything opulent during the 1980s. Today most major fashion designers have their take on the cowboy boot from subtle practical creations to over the top all out ostentatious glamour.
Vintage cowboy boots are very much in demand too. The San Antonio shoe company Lucchese, founded. in 1883 was a favourite with celebrities such as Zsa Zsa Gabor and Bing Crosby with rare or custom Lucchese boots made with rare leathers, exotic skins and artistic flare, fetch high prices today.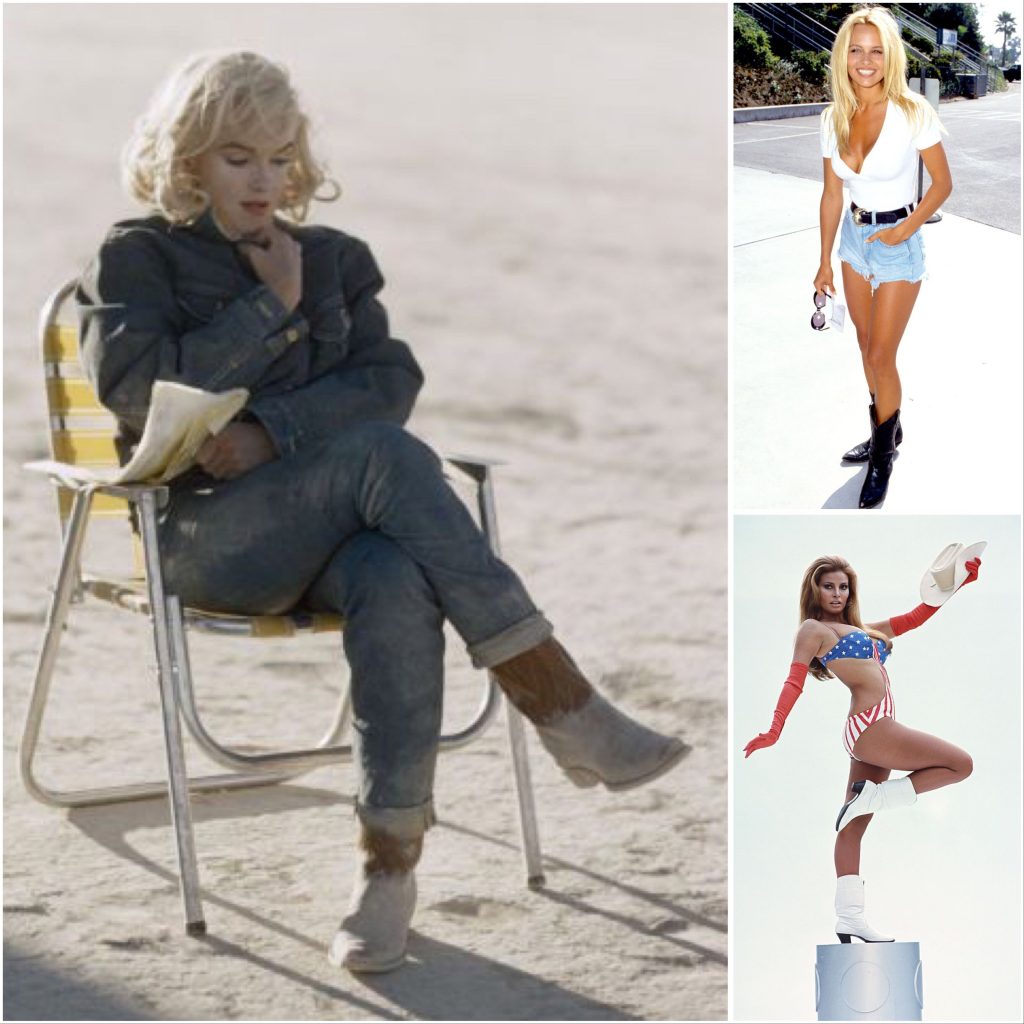 Cowboy Boot MaterialsCowboy boots are predominately made from leather, fur and skins often exotic and rare in nature. The cowboy boot style is significantly influenced by the toe design – the showier pointed-toe design, or the more understated square or rounded-toe cap. Unlike other leather shoes, cowboy boots are very firm and strong, so are unlikely o get wider or stretch. We really recommend you look for cowboy boots that fit you exactly,
Cowboy Boot Colours
Whilst every colour and shade is catered for the classic colours of black, white, pink, red, gold and silver dominate the designer boot market. Gold boots and silver boots particularly stand out with the investment in materials and design within the designer boot market.
Cowboy Boot Prices
Owning designer boots does not require a mortgage which great deals from fabulous brands readily available:
Best Cheap Luxury Cowboy Boot Deals under £500
Best mid-priced Luxury Cowboy Boot Deals £500 to £1,000
Best Expensive Luxury Cowboy Boot Deals over £1,000
Luxury Cowboy Boot Brands
With over a hundred major and independent designer cowboy boot brands listed on LuxSeeker.com, you'll find deals from all the leading luxury ankle boot designers such as Dolce & Gabbana, Saint Laurent, Givenchy and many more.
Cowboy Boot Designer Countries
There are fabulous cowboy boot designers around the world, not just the US., in particular, the French luxury houses.
Cowboy Boot Trends
The beauty of fashion is always personal taste, however, reviewing the data insights from LuxSeeker.com we can see ankle cowboy boots, and sequined cowboy boots rising in popularity. Cowboy boot options and looks are fully enhanced by buckles.

Enjoy the latest luxury cowboy boot deals with LuxSeeker.com today.
Read the full Luxury Boot Guide from LuxSeeker.com covering all styles, colours and designers of luxury boots.